Having so many years of experience in Recruitment and dealing with so many recruiters throughout my career, provided me with extensive insights and lessons learned along the way which I am always happy to share with other HR professionals.
My objective in this article is to explore the most ineffective practices being currently used by HR/Recruitment Departments in their Recruitment Strategy, explain the issues in these practices, and provide alternative effective approaches.
There are so many bad practices in the Recruitment process, however, I will focus in this article on the top and most common ones which are listed below in no specific order:
1. Following a Passive Candidate Sourcing approach
Unfortunately, there is still a good number of HR professionals and companies till this date who rely only on Online Job Posts to source for candidates to fill vacancies.

Below are just few of the top reasons why Online Job Posts are just ineffective and a waste of investment:
According to public statistics and based on my personal experience, only 1 application out of around 50 applications will match the job requirements. Meaning, the job poster will find 1 suitable application having wasted time reviewing 49 irrelevant applications.
Forgetting that hundreds of irrelevant applications (e.g. IT, engineers, accountants applying for a Sales position) will be received, the time spent to review these applications is unrecoverable.
The idle time during which the job poster is just waiting for candidates to apply for the job post is wasted and could have been used more effectively using an active approach rather than a passive one.
Not realizing that a big percentage of qualified candidates are not even on job boards nor have come across the Online Job Post.
From my experience, employers are moving towards using Online Job Posts for branding purposes only and may not even check any of the received applications. I would recommend alternatively to use the Candidate Search option in Job Boards or other effective sourcing options.
2. Publicizing your email address in Job Posts
I am sure that you have come across a number of Job Posts where the job poster clearly mentions his email address and requests interested applicants to email him their CV (below is an example).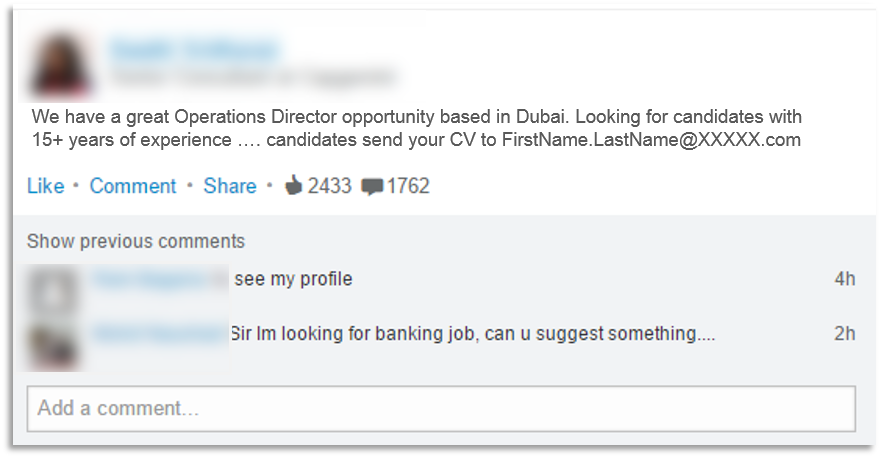 This only reflects the limited experience of the job poster to follow such approach as this will result in the following issues:
Receiving CVs which are not relevant to the Job Post and wasting his time to go through each email.
Having the job poster's email circulating across the Internet and as a result will eventually keep indefinitely receiving spam, marketing, and junk emails.
Having the job poster's inbox filled with so many unimportant emails which may result in not being able to notice important emails from management and internal departments and respond to them on timely basis.
My recommendation to address this ineffective practice is to apply one of the following:
Request the IT Department to create a dedicated email address for receiving CVs (e.g. careers@domain_name.com). This email inbox could be used as a database of CVs and recruiters can access this inbox simultaneously and search CVs on-need basis.
Implement an Applicant Tracking System (ATS) where Job Posts are created by these systems and CVs are uploaded to their database and associated with the respective Job Post.
3. Forgetting the Employer Branding aspect in the Recruitment process
Employers do not realize that their HR/Recruitment Department has a very important role in building the Employer Branding of the company especially that recruiters interact heavily with the outside world to attract candidates, and as such the management are not involved in or even have an Employer Branding process. As a result, many recruiters tend to follow ineffective approaches in the Recruitment process not realizing that they are killing the employer's image. Below are just few examples of these approaches along with their effective alternatives:
Associating your company name with free email accounts: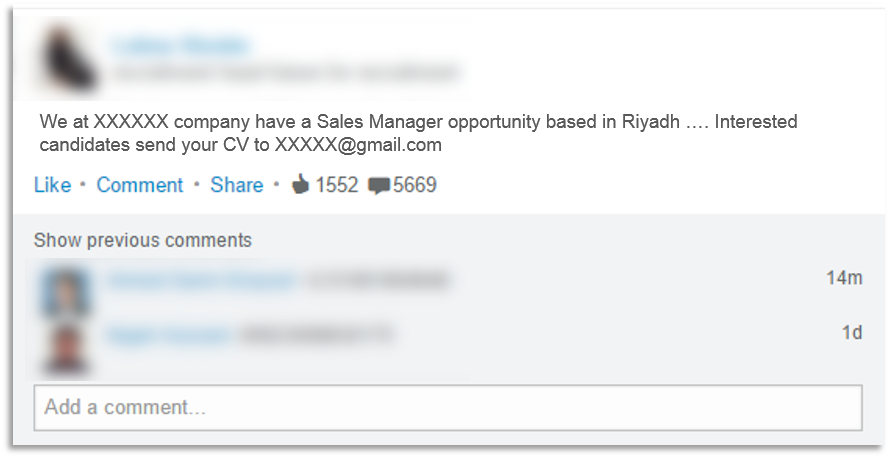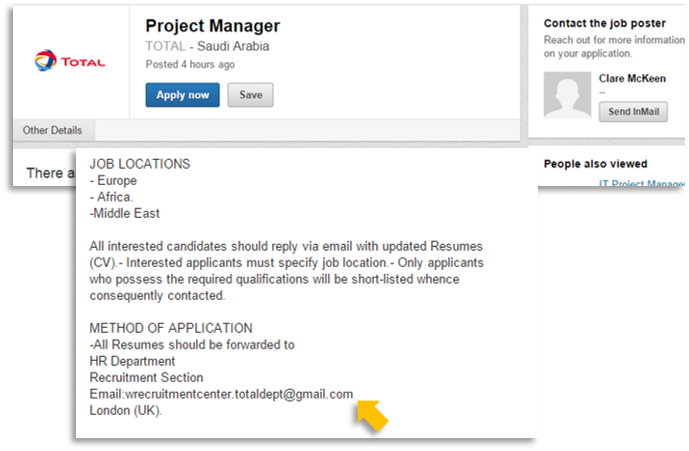 when you make a Job Post as in the above examples, the messages that you are reflecting to those who come across it are:

the company does not have a mature ATS system, which is an alarm especially if it is a global company not investing in such basic tools.
the company does not mind following unprofessional practices.
there is a possibility that this is a scam.
Do keep in mind that free email accounts cannot be the property of the employer and the recruiter once he moves to another employer he would just keep the email account along with all collected CVs. Although I don't recommend this practice at all, but if for some reason you need to use a free email account (e.g. @gmail.com), make the company name confidential and just provide a description of the company's business (e.g. a leading retail company ….).
Not sending to applicants a confirmation of receiving their application: whether you are using an email address to receive CVs or an ATS, it is one of the best practices to send an autoreply email to applicants to confirm receiving their application and that they shall be contacted if their CV matches the job requirements. Setting such a function is very easy nowadays and the IT Department and facilitate for you. It is also one of the best practices to use this autoreply email as an opportunity to market your social media accounts to applicants and request them to follow your pages to be updated with the latest job opportunities, thus increasing the number of followers of your company's social media pages.
Not providing status updates to candidates: it is one of the worst experiences and bad impressions reflected to candidates when no status update is given to candidates, especially if the candidate conducted an interview with the company and heard nothing back. Take the time to provide status update to candidates whether it is good new or bad news. If candidates fail interviews, you may as well use the status update email to wish the candidate good luck in other opportunities and also market your social media pages.
Missing the potential of LinkedIn Paid Job Posts: a LinkedIn Job Post provides the poster with two options, 1) send applications to an email address or 2) to send applicants to the employer's website to apply for the job, as in the below example.

Option number 2 is the most ineffective approach to use and is a waste of investment. Why!? Apparently not many people are aware of this, but LinkedIn provides a free service where they would link to the employer's Career page and automatically post it on LinkedIn Jobs which will send applicants to the original Job Post on the employer's Career page, below is an example.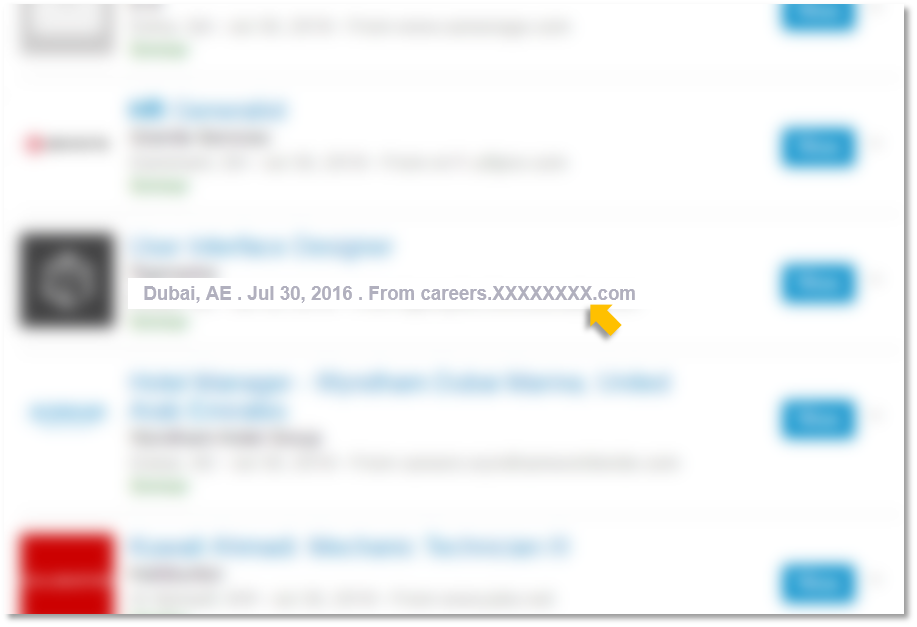 You just need to contact LinkedIn Support and they should activate the service for you. Accordingly, do not waste the investment on option 2. On the other hand, option 1 provides two advantages; 1) you would receive CVs as attachments directly in your inbox and 2) it provides you with a great opportunity to increase the number of followers of your company's LinkedIn page as the application form by default marks the follow company page as checked.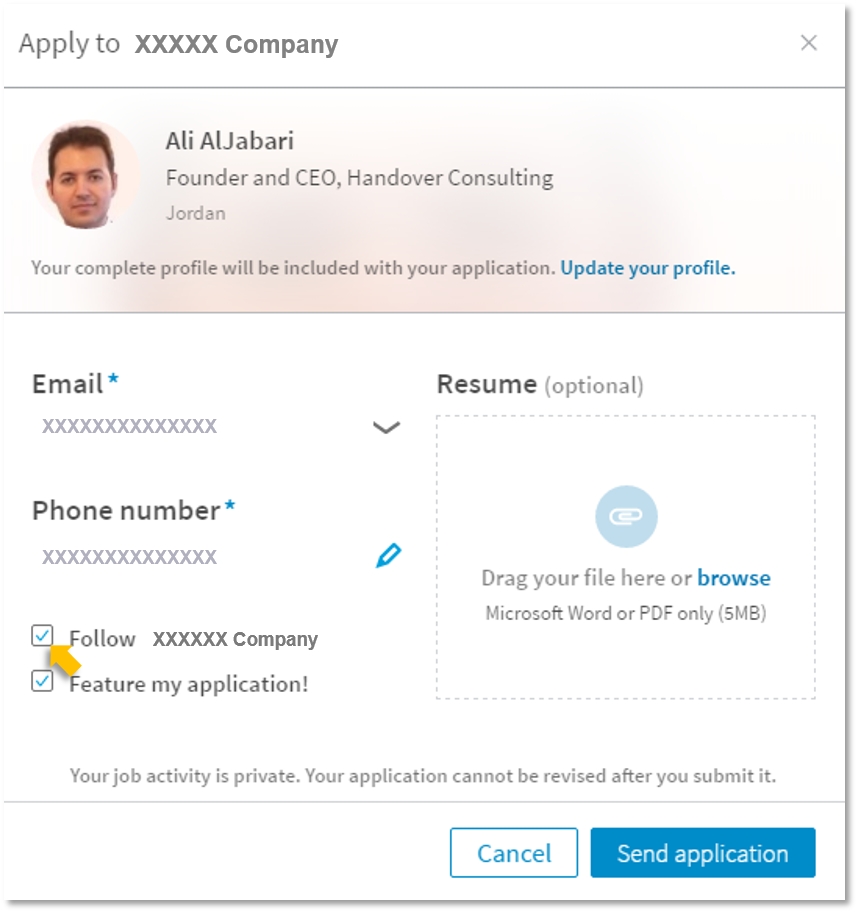 4. Starting the Sourcing process at a late stage
Some companies, mainly those without a mature HR Department, do not plan properly for their recruitment requirements and follow an on-need recruitment basis practice. With such an approach, recruiters would be given the recruitment request and would only then initiate the Sourcing process which may take some time and accordingly delay the hiring process.
Always try to implement more effective planned approaches. Make it a habit to develop a Manpower/Recruitment Plan on an annual basis and share it with the HR Department at the beginning of the year. This way recruiters would understand each vacancy is required at what point throughout the year and accordingly plan and schedule the Sourcing process ahead of time.
5. Not having updated CVs for Critical Positions
Each company has a number of critical positions for which if the incumbents leave these positions the operations of the company may just paralyze resulting in major financial losses. Such critical positions may include positions requiring unique competencies which are not easy to find in the local market, positions with high turnover, etc. In addition to having a proper Succession Planning in place to avoid major operation issues, a proper Sourcing strategy should be in place that ensures continuously maintaining updated CVs for such positions which shall highly reduce the time of the hiring process.
I hope that this article and the insights provided are beneficial to other HR professionals. Please do share your thoughts and feedback on the subject as they are always welcome.
---
Relevant keywords: candidate, hr_department, linkedin, recruitment, strategy
---