Overview
This is considered to be one of our key HR Consulting services through which we aim at optimizing the competencies of HR professionals across the Middle East in specific HR subjects and provide them with the opportunity to obtain an internationally accredited qualification that would push their career forward.
We have accordingly signed an Association agreement with Middle Earth HR (MEHR), one of the largest specialist training, education and knowledge support companies for HR professionals worldwide and is considered to be the world's 7th largest HR Training firm. Through this association, we facilitate and host MEHR's internationally accredited HR Certification programs in locations across the Middle East.
Middle Earth HR is also an HRCI Approved Provider which indicates that its programs are pre-approved by HRCI for recertification credit hours. You can utilize the Certificate of Attendance to claim credit hours for the recertification of any of HRCI's certificates (aPHR™, PHR®, PHRca®, SPHR®, GPHR®, PHRi™, SPHRi™).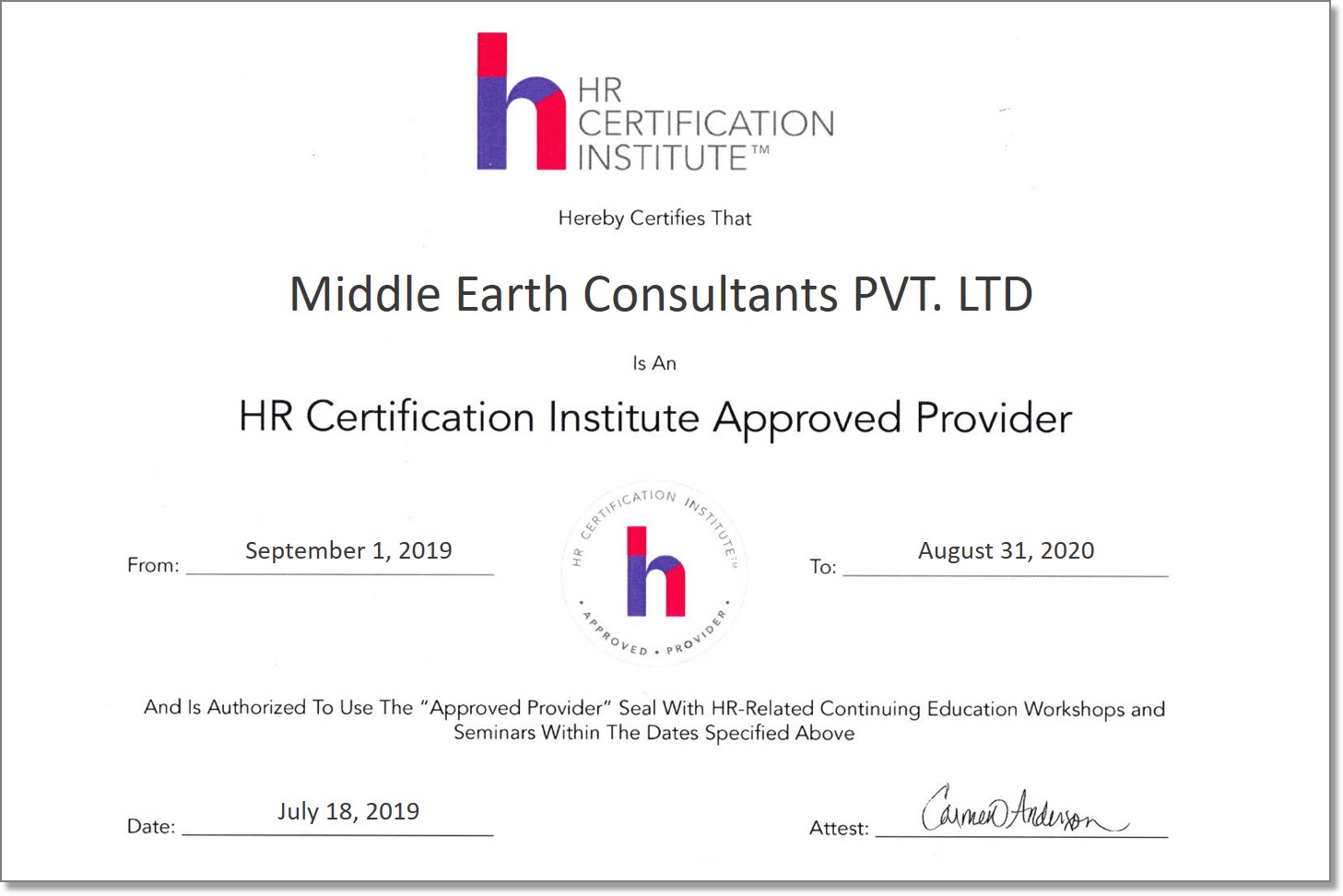 Below is the list of HR Certification programs provided by MEHR. Click on each program to view its details.
---
Programs Hosted by Handover Consulting
We have hosted a number of Middle Earth HR programs. These programs are listed below and you can click on each of them to see further details in terms of who attended the programs, photos from the events, and participants' feedback on each of the programs.

---
Location of Programs
Programs are scheduled in coordination with MEHR in different locations in the Middle East and as announced in the below section. Additionally, some companies may want to host these programs and deliver them specifically for their employees and in a location of their choice. We can surely coordinate for such an arrangement. Please do not hesitate to contact us at enquire@handover.consulting and we shall get back to you at the earliest.
---
Scheduled Programs
For your easy reference, we have developed a training plan that summarizes the planned HR Training/Certification programs for this year. Click here to download the 2019 Training Plan. Once the schedule for these programs are decided, they will be published in the below list. Click on each link for further details.